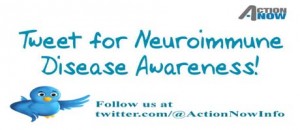 Many neuro-immune disease sufferers use Facebook to share information and raise awareness and now more and more also use Twitter to campaign and network.
Wouldn't it be great if we could raise awareness of neuroimmune disease by getting topics trending on Twitter? To help increase our chances of trending on Twitter we need more people to join and to help spread awareness.
Many ME advocates and their friends and families have already begun this initiative by signing up to Twitter, our first aim is to raise awareness on ME/CFS and FM Awareness Day 12th May 2011 using the #may12th hashtag.
We may not reach our goal of trending on Twitter on the first attempt but we can certainly raise awareness and in doing so create a network of people ready to Tweet the next relevant good news story or breakthrough publication. We know advocates will be Tweeting and spreading awareness throughout the day, our coordinated event simply aims to get the number of #may12th Tweets to peak as this will increase our chances of making the Trends list.
We request everyone add #may12th to all their Tweets (as it is universal enough for everyone to use). However, as well as adding #may12th we also strongly encourage the continued use of #mecfs, #fibro and #xmrv as they are already popular and a dramatic increase in the use of any these hashtags may result in them making the Trends list.
You may wonder how getting #may12th in the Trends list will help spread awareness of ME/CFS, FM and XMRV.
The Trends list appears on the right hand side of every member's homepage giving included topics a great amount of exposure. Clicking on a topic in the Trends list brings up the latest Tweets on that topic. Our effectiveness at raising awareness will come down to the content of our Tweets, mentioning and giving links to significant information on the neuroimmune disease ME/CFS, Fibromyalgia and the HIV-like virus XMRV will be vital to our cause. Have links to the things you most wish people to see ready to Tweet!
For this initiative to work it will need to be embraced by the neuroimmune disease community as a whole and we welcome feedback and suggestions concerning this awareness venture. Contact the Action Now team at info@actionnow.co.uk
For more information on how to join Twitter and use it to raise awareness see A Guide To Raising Awareness On Twitter.
Follow @ActionNowInfo and @ActionNowGal for further news and updates, and don't forget to check out and reply to our Tweets during the May 12th event itself!