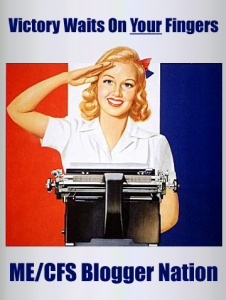 Following the success of XMRV Bloggerama Day and PACE isn't for ME, Action Now has created a special blog ring for all ME and CFS bloggers wishing to share their knowledge about this devastating neuroimmune disease. We invite you to join us. Together we can make a difference.
What is a Blog Ring?
A blog ring is a continually growing circle of blogs with a common focus or theme. Each ring has its own small banner (or code) connecting each individual blog to the next. Blog rings are simple and easy to join; once you've signed up and have been approved, you will receive a code to paste into your blog. This code allows others to see, by way of a banner, that you are part of an online community. Blog rings help you to network and essentially afford you greater online exposure.
How to join:
Submit your blog via the ring host, alt-webring.com. During the application process you will be asked to provide information about your blog and create a site ID.
After you have submitted your blog, you will get a confirmation screen that will inform you how to add the ring code to your blog. Click on the Get Code button in the lefthand sidebar; this will give you the HTML code for the ring box. Copy the code, go into the backend of your blog, and insert the code making sure that it is positioned on the sidebar of your blog.
To adjust the size of the navigation panel so it fits your blog, go to the part of the code that reads <table width="150″ cellpadding="3″ cellspacing="0″ border="1″> and change the numericals.
As soon as a member of Action Now activates your site the ring will become visible.
Visit our social page on Facebook and introduce yourself. Stop by often for special theme days.
Here are the ME/CFS Blogger Nation rules:
The ring is intended for blogs that focus on ME and CFS.
Your blog must be regularly updated. Whilst we understand that it is difficult to commit a set time for writing if you suffer with ME or CFS, we have to balance this with the need for new content. Many blog rings expect new content at least once every two weeks; our approach is that any blogs not updated at least once a month will be flagged. A member of Action Now may contact you to assess the situation. If you fail to update your blog within three months your site will be removed from the ring.
You must include the ring code on the sidebar of your blog, so it is clearly visible to readers. If you fail to add the code to your site within two weeks of joining you will be removed from the ring. If you have any problems locating the code or installing it, please email us at bloggernation @ actionnow. co.uk and we will help you.
You must have at least 5 entries on a new blog in order to be eligible to join.
Adding the code:
To a WordPress Site –

Log into your blog and find the Presentation tab, then click on the Widgets option.
Move the Text box up to your sidebar, then paste in the code.
Position the new Text box where you want it on the sidebar, then Save. Be sure the code is in a static position.
To a Blogger Site –
Log into your blog then find the Template Tab (under the Page Elements subcategory).
Click on the Add a Page Element button and choose the HTML/Javascript option.
Paste the code into the box in the pop-up window. Be sure the code is in a static position on the sidebar.`
Position the HTML box where you want it on the sidebar, then Save.
Ring Admin Form: